Inaugural Alliance All-Star Game to be aired live on ESPNU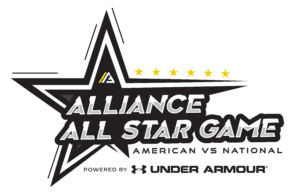 July 21, 2021 — The inaugural Alliance All-Star Game powered by Under Armour is set to air live on ESPNU at 8:00 CST on July 27th from Hall of Fame Stadium in Oklahoma City. Former Big 12 Player of the Year and National Champion Erin Miller will provide color for the game and Chris Plank, a 20 year veteran of play-by-play and sports talk radio, will serve as the play-by-play announcer. The Alliance Fastpitch is working directly with AthletesGoLive to produce the game on ESPNU.
The top 44 high school seniors will face off in an All-Star exhibition game during the 16U and 18U Alliance Fastpitch Championship Series. Alliance All-Star athletes were named to the All-Star Game through a national selection process spearheaded by Derek Allister and OnDeck Softball. These athletes were first named to a National Watch List and then to their respective Member League All-Star Team. The athletes will be divided into two teams — Alliance American and Alliance National. Full rosters and athlete bios can be found here.
Under Armour will serve as the title sponsor of the Alliance All-Star Game outfitting athletes and coaches in head-to-toe Under Armour apparel and footwear. During the All-Star game, Under Armour will have a strong presence onsite in Oklahoma City with a players' lounge and recovery zone for the All-Star athletes in addition to a full apparel shop for fans. The new Louisville Slugger Meta will serve as the Official Bat of the All-Star Game and Diamond Kinetics was announced as the Official Bat Sensor of the All-Star Game supplying every hitter with a SwingTracker Bat Sensor and analytics. Rapsodo, the sports data company known for helping athletes analyze real-time metrics to perfect their game, will provide HITTING 2.0 and PITCHING 2.0 assessments for all All-Star Athletes and sharing that data with the broadcast team.
The 44 athletes participating in the event are all members of the 2021 high school senior class and have all signed to play DI college softball starting this Fall. For more information on the 2021 Alliance All-Star Game powered by Under Armour or the Alliance Fastpitch Championship Series, please visit our home page at www.thealliancefastpitch.com.
In addition to the All-Star Game on ESPNU, games from the Alliance Fastpitch Championship Series will be broadcast for all fans on AthletesGoLive. Fans will be able to watch the 16U and 18U Tier I and Tier II Championship Series for free on AthletesGoLive.com and on thealliancefastpitch.com websites. Select Super Regionals and Elite 8 games will also be broadcast by AthletesGoLive Productions from Hall of Fame Stadium in Oklahoma City.
About The Alliance Fastpitch
The Alliance Fastpitch is a cohesive network of regional softball leagues, teams, coaches, athletes and parents. Founded in the Summer of 2020, the Alliance Fastpitch has quickly grown to over 900 teams and over 12,000 individual members which includes coaches and athletes.
Our six regional Member Leagues include the Pacific Coast Fastpitch League, Heart of America Fastpitch League, Northeast Fastpitch League, Rocky Mountain Fastpitch League, Southeastern Fastpitch League and Texas Fastpitch League. These regional Member Leagues provide a purpose of play to existing events with a structured point and ranking system, regional League championships, and a true national championship series, the Alliance Fastpitch Championship Series (AFCS).  Berths in championship events must be earned, with every team starting at the same level each season. The Alliance has partnered with the top event providers (USA Softball, USSSA, Triple Crown Sports) to host these events throughout the country.