Super Cup Stage I All Tournament Team and Most Outstanding Players Announced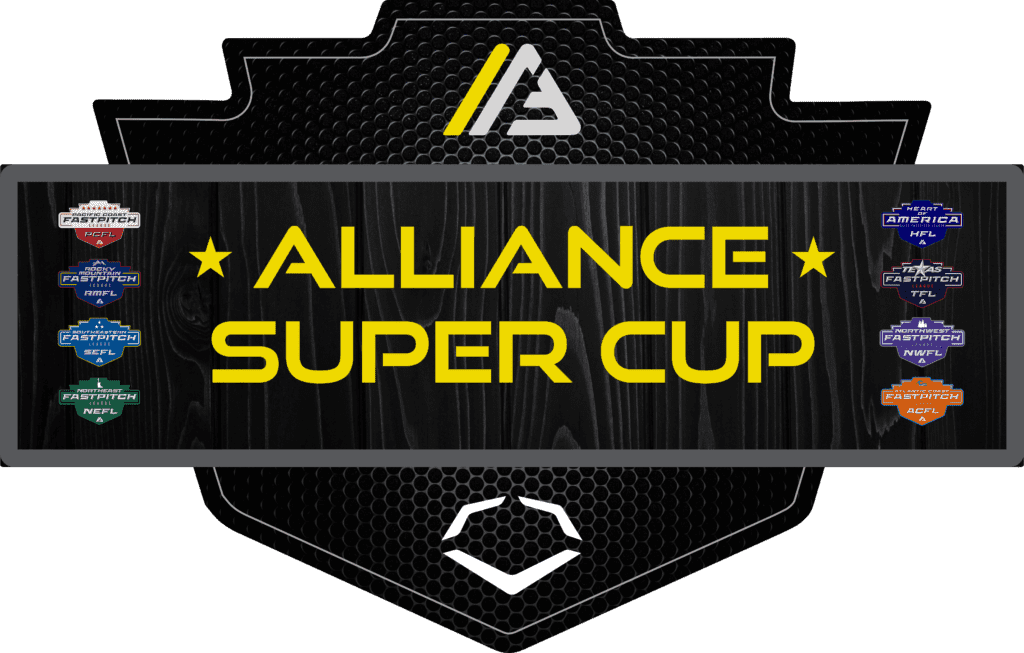 December 2021 – The Alliance Fastpitch is honoring our top performers from the Alliance Super Cup Series presented by EvoShield by announcing our All Tournament Teams and Most Outstanding Players. Athletes were named to the Stage I All Tournament Team for their respective age divisions based on their game stats captured by AthletesGoLive. The Alliance formed a committee to review the AGL stats of all athletes and recognize athletes from our West, Central and East events.
Top performers from each event location – West, Central, East — were identified including the overall top performer being named as that division's Most Outstanding Player based on stats. Congratulations to our athletes named to the 14U, 16U, and 18U All Tournament Teams.
After reviewing all stats, our national committee selected the Most Outstanding Player for each age division. These athletes will receive a prize package from EvoShield, our title sponsor for the Alliance Super Cup Series.
Kia Minor from the 14U OC Batbusters Stith was recognized as the 14U Most Outstanding Player. Kia hit an astounding .824 with  8 XBH's including 2 home runs, 8 RBIs, and 4 stolen bases. She had a 1.706 slugging percentage!
Kassandra Gewecke of the Corona Angels Slye was recognized as the 16U Most Outstanding Player. Kassandra threw 17.1 innings in Stage I and only gave up 5 hits and 0 earned runs. Kassandra was a perfect 2-0 with 13 strikeouts, 0 walks, and a 0.00 ERA.
Hannah Camenzind of the Aces 18U was honored as the 18U Most Outstanding Player for her efforts In the circle and in the box during the East Stage I. Hannah threw 20.1 innings going a perfect 3-0 with a 0.689 ERA, 20 strikeouts and only 2 walks. At the plate, Hannah led the Aces with a .588 batting average, 13 RBIs, and 7 XBH including 3 home runs.
A Stage II All Tournament Team will be announced following the completion of all three events in Stage II. Below is a list of all event locations and dates for Stage II as well as the culminating event, Stage III to be hosted in Aurora, CO by Triple Crown Sports during their 4th of July tournament.
For more info on the Alliance Super Cup Series presented by EvoShield please visit https://thealliancefastpitch.com/super-cup/.
14U Super Cup All Tournament Team
| | | |
| --- | --- | --- |
| Overall MVP | Kia Minor | OC Batbusters Stith |
| West MVP | Kia Minor | OC Batbusters Stith |
| West Player | Elissa Guerrero | Athletics Mercado Tidd 2025 |
| West Player | Resse Ferrel | OC Batbusters Lastrapes-Saski |
| West Player | Avery Huh | ai Bandits Breer |
| West Player | Madison Loper | Athletics Mercado Delamater/Debus |
| West Player | Paityn Lavin | OC Batbusters Stith |
| West Player | Justyne Zabala | Corona Angels FTS |
| Central MVP | Isabella Barziza | Impact Gold National Torres |
| Central Player | Claire Schreiner | 14u Texas Glory (Naudin) |
| Central Player | Ella Boyer | Bombers HTX Gold 14u- Davis |
| Central Player | McKenzie Martinez | Blaze 14u United |
| Central Player | Roccia Moreno | Athletics Mercado Bonola 14u |
| Central Player | Alex Starr | Texas Bombers Gold 14U-Malpass |
| Central Player | Eva Lantagne | Impact Gold National Torres |
| East MVP | Audrey Heller | Iowa Premier 14U National |
| East Player | MaTaia Lawson | Iowa Premier 14U National |
| East Player | Lauren Turner | Aces 14U |
| East Player | Kayleigh Perks | Williamsburg Starz Gold National |
| East Player | Kaydee Absher | Turnin2 Roberson |
16U Super Cup All Tournament Team
| | | |
| --- | --- | --- |
| Overall MVP | Kassandra Gewecke | Corona Angels Slye |
| West MVP | Kassandra Gewecke | Corona Angels Slye |
| West Player | Cece Tirado | Athletics Mercado Hovermale |
| West Player | Emily McCoskey | Firecrackers Brashear |
| West Player | Sereniti Trice | Corona Angels Slye |
| West Player | Larissa Flores | 5 Star Playmakers Siofele/Mulipola |
| West Player | Heather Ebner | Oregon Rebels – Gonzalez |
| West Player | Jordan Smith | Suncats Jimenez |
| Central MVP | Prisais Quintero | Athletics Mercado Bonola |
| Central Player | Madison Espinoza | Bombers Gold National 16U |
| Central Player | Carli Price | Impact Gold Jackson 16U |
| Central Player | Ella Grace Cunningham | American Freedom National 2K24 |
| Central Player | Cambree Creager | Texas Bombers 16u Gold |
| Central Player | Carson Fall | Glory Adkins Gold 16U |
| Central Player | Haiden McGehee | Impact Gold Jackson 16U |
| East MVP | Dania Brooks | Tampa Mustangs Rene |
| East Player | Emmerson Cope | Aces 16U |
| East Player | Gracie King | Iowa Premier 16U National |
| East Player | Madison Greene | EC Bullets Cornett |
| East Player | Maggie Hiatt | Williamsburg Starz Bigham |
18U Super Cup All Tournament Team
| | | |
| --- | --- | --- |
| Overall MVP | Hannah Camenzind | Aces 18U |
| West MVP | Townsen Thomas | Blaze United 18 |
| West Player | Brooke Davis | Suncats Jimenez – Noriega |
| West Player | Kyra Chan | Firecrackers – Brashear |
| West Player | Olivia Moscardi | Breakers Labs National Slimp/James |
| West Player | Brooklyn Jones | ai Bandits Breer |
| West Player | Alyssa Hovermale | Athletics Mercado Smith |
| West Player | Ailana Agbayani | OC Batbusters Stith |
| Central MVP | Aiyana Coleman | Texas Bombers Gold 18u |
| Central Player | Haidyn Sokoloski | Texas Glory |
| Central Player | Macy Graf | Texas Glory |
| Central Player | Ashley Minor | Impact Gold National Rodriguez 18U |
| Central Player | Keely Williams | Texas Bombers Gold 18u |
| Central Player | Alex Warncke | Texas Bombers Gold 18u |
| Central Player | Sidne Peters | Impact Gold Jackson 18U |
| East MVP | Hannah Camenzind | Aces 18U |
| East Player | Elisa Smith | LLG Gold Corn DPS 18U |
| East Player | Mandy Esman | Finesse 18U-Dreher-Lesko National |
| East Player | Lexi North | Turnin2 Kish |
| East Player | Hannah Church | Wichita Mustangs |