Ava Calciano Named NEFL Player Of the Month for March
Ava Calciano Named NEFL Player of the Month for March  By Alexa Pagano: The North East Fastpitch League (NEFL) is thrilled to announce Player of the Month for March, Ava Calciano from Milton, Delaware. For the remainder of the 2021 Season, we will highlight top performing NEFL players in our different age groups. 2025…
Ava Calciano Named NEFL Player of the Month for March 
By Alexa Pagano: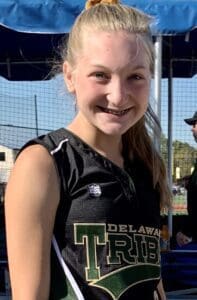 The North East Fastpitch League (NEFL) is thrilled to announce Player of the Month for March, Ava Calciano from Milton, Delaware. For the remainder of the 2021 Season, we will highlight top performing NEFL players in our different age groups.
2025 graduate, Ava Calciano  is an intense and hardworking athlete who is definitely going to see major success in her future. She represents the Delaware Tribe and is a native of Milton, Delaware where she attends Cape Henlopen High School. Ava started playing ball when she was 4 years old and she tells us that she would hit off her dad in her backyard and imitate Big Papi from the Boston Red Sox. Minors softball for Ava started at Lewes Little League and while softball is her first sport, she always enjoys competing in Volleyball. Another activity Ava does in her free time is teach her little sister the game of softball!
Some excellent stats for Ava include a .511 batting average and a 1.420 on base percentage. With 4 doubles, 3 triples, 2 homeruns and 17 RBIs Ava was well over average during this very powerful offensive season.
Calciano's coach had great things to say about this young and talented ball player, "Ava is a 5 tool player and a straight A student. Her mom was a standout track star at Penn State earning All Big 10 honors and her dad played baseball professionally and is currently an MLB scout. Genetics aside, her strong work ethic has Ava spotted regularly on the field getting extra reps prior to practice. She is the 3 hole hitter on the Delaware Tribe 2025 that plays a very aggressive regional schedule. Over the past 18 months, the left handed hitting second baseman batted a jaw dropping .535 (97-181) with 14 doubles, 13 triples, 4 HR ,72 RBI and 1.420 OPS. Calciano has a gap to gap approach and boasts a plus plus bat speed that has reached 74mph on Blast. Ava is equally impressive in the field and along with her short stop, they turned an impressive 7 double plays with the help of her good footwork and quick exchanges. Ava highlighted an impressive win this fall by her 13O team in the 14O division of the Jennie Finch invitational tournament going 12/17 (.705) over the 7 game stretch. Calciano has also won a State championship and a USA National."
One of Ava's favorite softball memories was her first over the fence homerun! This helped her team beat one of their local rivals. She explained the moment by saying "It was cool to round third and see all my teammates waiting for me around home plate!"
Well done and Congratulations to Ava Calciano from the Delaware Tribe team for being recognized as the Player of the Month for the NEFL!
What is the Alliance Fastpitch Player Recognition Program?
The Player Recognition Program was built to recognize and spotlight our individual players in each Member League. Each month, registered Alliance Fastpitch coaches can nominate a player from their age division. League Leadership will review nominations and a monthly stats report from AthletesGoLive (AGL) to determine the League's Player of the Month.
Following the announcement of each League's Players of the Month, the Alliance Fastpitch will recognize a National Player of the Month.
To be considered for Player of the Month, your team must score League games in AGL so your stats will be included in the League's monthly report.