Brianna Roberts Recognized for NEFL Fall Performance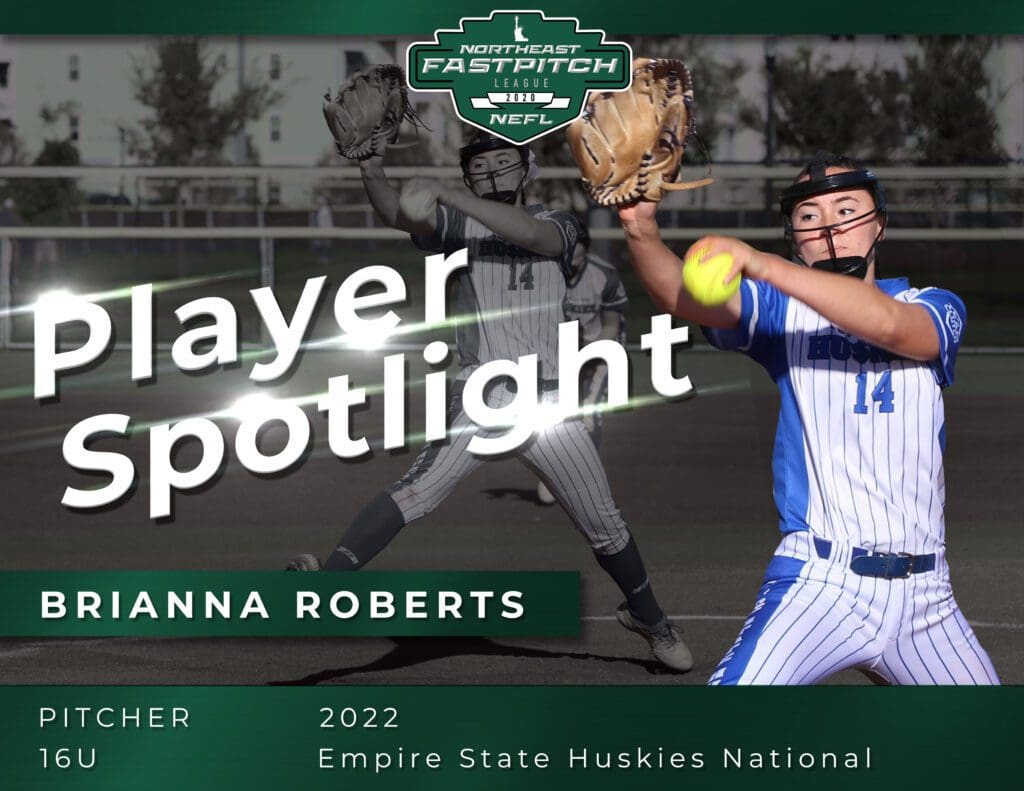 By: Alexa Pagano
January 27, 2021 — The Northeast Fastpitch League (NEFL) is thrilled to announce our first player in our Alliance Player Recognition Program. 
For the remainder of the 2021 Season, we will highlight top performing NEFL players in our different age groups.
In our first Fall season, Brianna Roberts led the way for an Empire State Huskies National 16u team that earned the first Alliance Fastpitch Championship Series (AFCS) berth for the NEFL. She was pivotal in elimination games and her stats proved her talent.
Roberts was a threat defensively and a leader offensively. She has a fall pitching line of 99 IP, 139K, 1.48 ERA. On the offensive side of the ball she had a BA .323 with a team leading 10 doubles, 3 triples. She led the way at the Power 12, NEFL Championship events with 16K in 11 IP and batted .400 including a game winning double in a pivotal elimination game in extra innings.
Since the age of 5, Brianna has been dedicated to this sport, constantly infatuated with softball especially the competition side of it. Brianna stated, "I started playing travel ball at 9 years old where I met my closest friends." She also competed in the Pan American Games in Colombia representing the Puerto Rican Junior National Team. Brianna says it was "A surreal experience, I can still picture th
e image in my mind, yet it still feels like a dream."
Brianna Roberts is graduating in 2022 and will continue her softball career at Kennesaw State University in Georgia.
Coach Joe Porcelli says, "I have had the honor and privilege of coaching Brianna." Describing her as a true team leader and a fierce intimidating competitor. She has earned respect from teammates and coaches through her success. He also adds, "I know every time I put the ball in her hands our team will have the very best chance to win."
One of Brianna's all time favorite softball memories was hitting the walkoff double in the Power 12 elimination round. She says, "The whole thing felt like a world series, our whole team was so hyped up about this game as if there was $3000 on the line." With passion in her heart she was successful and said, "The next thing I knew my teammates were charging at me and I felt an earthquake on my helmet."
With so much success individually Brianna still says, "Being able to pull through for my team was the best feeling in the world."
Congratulations to Brianna Roberts from the 16U Empire State Huskies for being recognized as the Spotlight Athlete from the NEFL this Fall. 
What is the Alliance Fastpitch Player Recognition Program?
The Player Recognition Program was built to recognize and spotlight our individual players in each Member League. Starting this Spring, each League will name a Player of the Month for different age divisions.
Registered Alliance Fastpitch players will be placed in a pool based on verified stats from AthletesGoLive (AGL). AthletesGoLive(AGL) will run monthly reports and submit to the player selection committee for each League.  Additionally, registered Alliance Fastpitch coaches will have the opportunity to submit a player for consideration. Committee members will review verified stats and consider coach feedback to name League Players of the Month. 
Following the announcement of each League's Players of the Month, the Alliance Fastpitch will recognize a National Player of the Month. To be considered for Player of the Month, your team must score League games in AGL so her stats are considered in the monthly reports.