Sophie Scurci named NEFL September Player of the Month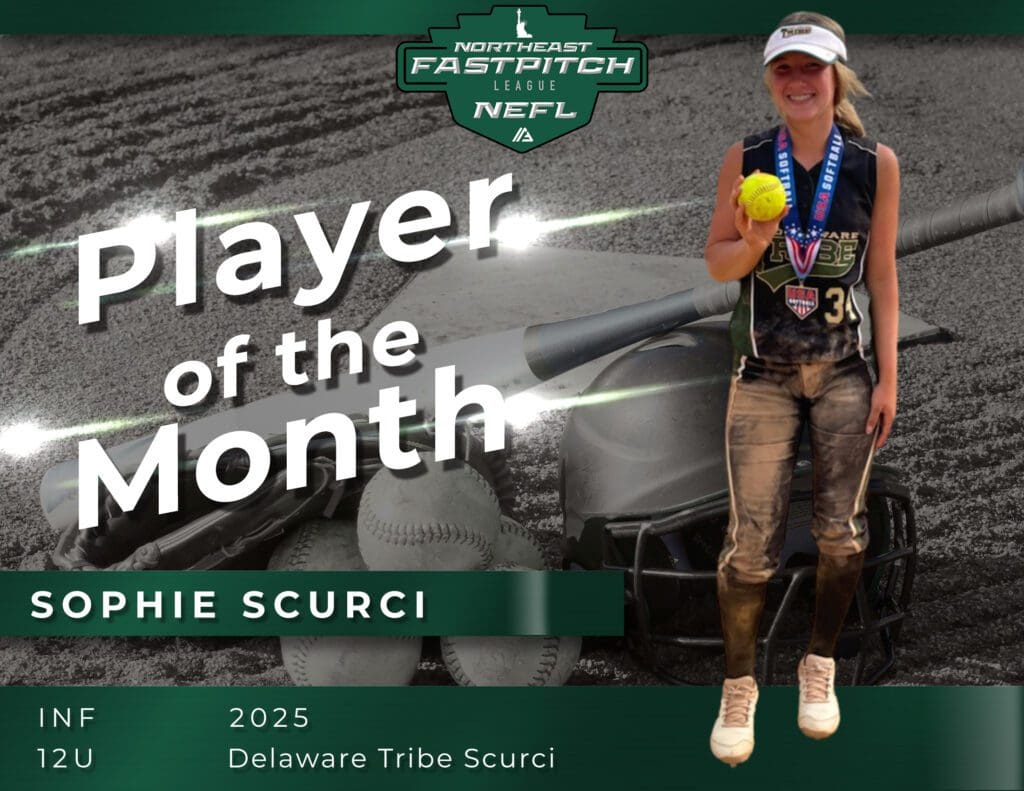 The Northeast Fastpitch League (NEFL) is excited to spotlight Sophie Scurci as the September Player of the Month. Scurci is an infielder on Delaware Tribe Scurci.
During the fall season in the month of September, Scurci posted a .424 average as a leadoff with 5 RBIs, 18 runs scored, 14 hits, 3 triples and was 9 for 9 on stolen bases. The 2025 had a great defensive showing with a .962 fielding percentage.
"Sophie is a very hard worker and a top level athlete," coach Dennis Scurci said. "What makes Sophie stand out is her ability to come up big in high pressure situations. She can hit for power or bunt for base hits. She also had a string of 130 stolen bases without being caught. Her performance in The Full Speed Fall event was a big reason for the team earning a spot in The AFCS for 2022. She led the team in batting average, fielding percentage and stolen bases. Sophie is a freshman and is looking forward to attending more college camps and getting started with the recruiting process. Sophie also plays soccer. She is a member of Coppermine 07 Premier which is currently ranked 3rd in the nation."
Sophie fell in love with the game at a very early age. "I started playing when I was six," she said. "I fell in love with softball from the very start. I've played every position on the field and like all of them. Stealing bases is probably my favorite. I've played for Delaware Tribe for my whole career except for the first year. What makes our team different is that we have the same group of girls that have played together since we were 8. We always have each other's backs and play as a team."
Sophie treasures her very first state championship as her favorite softball memory. "I've been lucky enough to win 3 so far but the first was my favorite. It was at 10U. We weren't a very good team to start the year and no one thought we would finish the season as state champs."
From all of us at the Alliance and the NEFL, congratulations to Sophie Scurci for her achievements.
What is the Alliance Fastpitch Player Recognition Program?
The Player Recognition Program was built to recognize and spotlight our individual players in each Member League. Each month, registered Alliance Fastpitch coaches can nominate a player from their age division. League Leadership will review nominations and a monthly stats report from AthletesGoLive (AGL) to determine the League's Player of the Month.
Following the announcement of each League's Players of the Month, the Alliance Fastpitch will recognize a National Player of the Month.
To be considered for Player of the Month, your team must score League games in AGL so your stats will be included in the League's monthly report.