Juju Franco Recognized as PCFL Player of the Month for January
PCFL Player of the Month for January- Juju Franco
By Hannah Famiano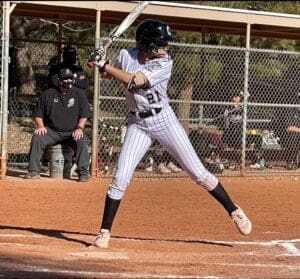 The Pacific Coast Fastpitch League (PCFL) is excited to spotlight Juju Franco for January's Player of the Month in our Alliance Fastpitch Player Recognition Program. For the remainder of the 2021 Season, we will highlight top performing PCFL players in our different age groups.
Throughout January, Juju Franco pitched in the circle for the So Cal Choppers Franco 12U, but also contributed at the plate. She had solid stats in January and is looking to continue to dominate the rest of the season. Franco hit an impressive .500, recording 12 hits out of her 24 at bats. From the 12 hits, she had 5 doubles, 2 triples, and 5 singles while smashing in 14 runs. In the circle Juju had a perfect 4-0 record with only four walks allowed. Out of the 26 innings pitched she fanned 23 batters with a very great stat of only 5 earned runs allowed.
"This kid has what it takes to get to the next level and strive! We sometimes forget that she is only 12 years old. You will be hearing about Juju Franco for many years to come. I'm so proud to call her my daughter and I'm so lucky to have been her coach all these years. I just love watching her play!" said So Cal Choppers Head Coach. "Juju is truly one of a kind. She has great knowledge of the game and is a fierce competitor. She has no fear and just knows how to lead and is this teams leader."
Juju Franco is a 2026 pitcher who is currently uncommitted, but she has her eye on Arizona and really wants to become a wildcat.
"I got into softball when my older sister Mia started playing and I liked watching her play. So I wanted to start playing too. I started at the age of 6 and have loved it since." said Franco about how she first got started in the game.
When we asked Juju what her favorite softball memory was, she responded with "One of my favorite softball memories was when my coach let me catch one inning at a tournament.  I was so excited, and I missed almost every ball. I actually got to do a throw down to 2nd, But I didn't get her out lol."
Congratulations to Juju Franco from the So Cal Choppers Franco 12U team for being recognized as the Spotlight Athlete from the PCFL in January.
What is the Alliance Fastpitch Player Recognition Program?
The Player Recognition Program was built to recognize and spotlight our individual players in each Member League. Starting this Spring, each League will name a Player of the Month for different age divisions.
Registered Alliance Fastpitch players will be placed in a pool based on verified stats from AthletesGoLive (AGL). AthletesGoLive(AGL) will run monthly reports and submit to the player selection committee for each League.  Additionally, registered Alliance Fastpitch coaches will have the opportunity to submit a player for consideration. Committee members will review verified stats and consider coach feedback to name League Players of the Month. 
Following the announcement of each League's Players of the Month, the Alliance Fastpitch will recognize a National Player of the Month. To be considered for Player of the Month, your team must score League games in AGL so her stats are considered in the monthly reports.