Anna Reimers Recognized by the RMFL for her Fall Performance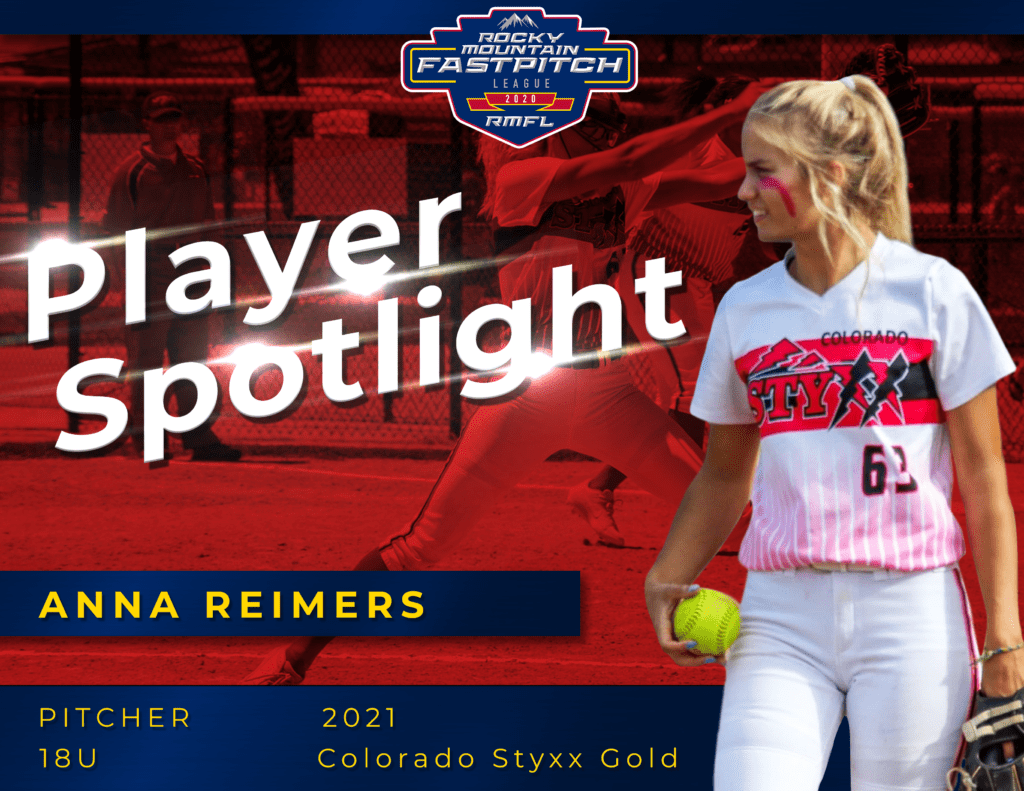 By: Arielle Gordon 
January 27, 2021 — The Rocky Mountain Fastpitch League (RMFL) are excited to spotlight Anna Reimers as the RMFL's first recipient of the Alliance Player Recognition. Each month, for the remainder of the season, we will highlight a top-performing player from every RMFL age group.
During our inaugural fall season, Anna Reimers, a pitcher for the Colorado Styxx 18 U Gold, recorded a 1.3 ERA in 50 innings. She gave up 51 hits and recorded 96 strikeouts in her third year on the team.
Reimers, a native of Highlands Ranch, CO, began pitching when she was 9, and her favorite softball memory is from her first year with the Styxx. "I was one of a few sophomores playing with mostly juniors and seniors and I grew so much and learned so much from my teammates," she said. "They taught me a lot about leadership, work ethic, and trust."
At the plate, Reimers recorded an impressive .509 batting average. 
"It has been fun watching her journey and watching the player she has become," coach Pablo Severtson said. "She's become, in my opinion, the best pitcher in the state and one of the best in the country. She is a complete competitor in every sense of the word." 
Reimers, a member of the class of 2021, has signed with the University of California at Berkeley to continue her softball career. 
From all of us at the Alliance Fastpitch and the RMFL, congratulations to Anna Reimers for her achievements this Fall and we look forward to recognizing more RMFL players this season. 
What is the Alliance Fastpitch Player Recognition Program?
The Player Recognition Program was built to recognize and spotlight our individual players in each Member League. Starting this Spring, each League will name a Player of the Month for different age divisions.
Registered Alliance Fastpitch players will be placed in a pool based on verified stats from AthletesGoLive (AGL). AthletesGoLive(AGL) will run monthly reports and submit to the player selection committee for each League.  Additionally, registered Alliance Fastpitch coaches will have the opportunity to submit a player for consideration. Committee members will review verified stats and consider coach feedback to name League Players of the Month. 
Following the announcement of each League's Players of the Month, the Alliance Fastpitch will recognize a National Player of the Month. To be considered for Player of the Month, your team must score League games in AGL so her stats are considered in the monthly reports.