Nadya Moreno Recognized as the RMFL Player of the Month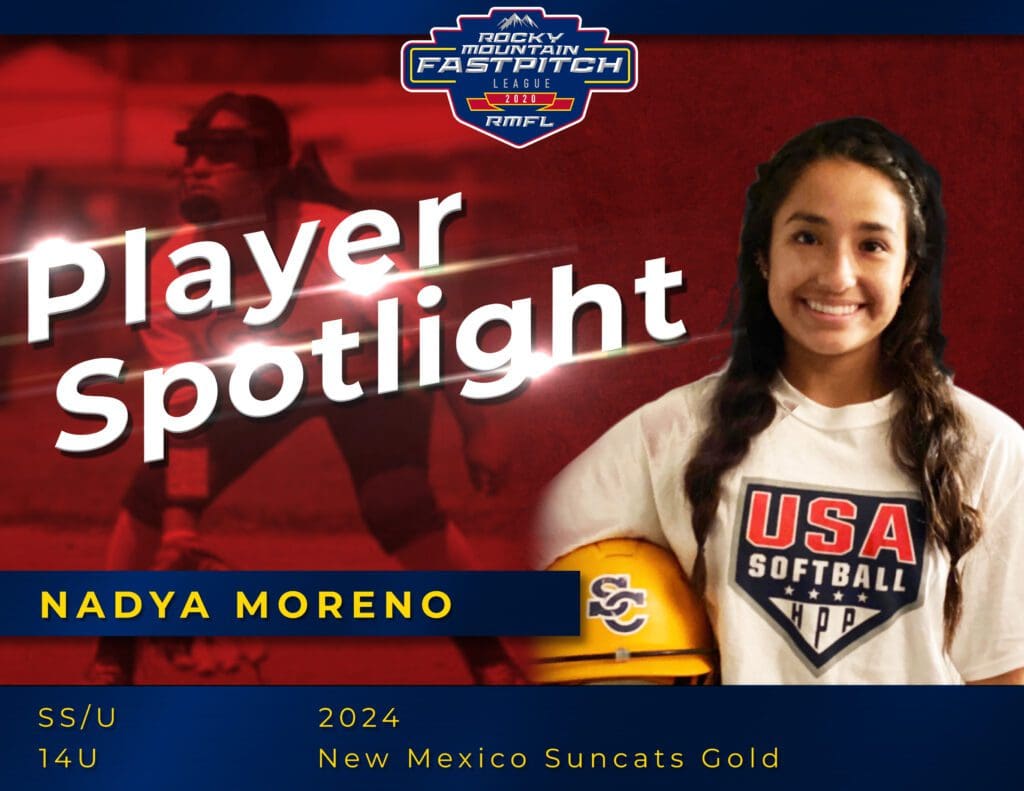 Nadya Moreno Recognized by the RMFL for Her January Performance
By: Arielle Gordon
The Rocky Mountain Fastpitch League (RMFL) is excited to spotlight Nadya Moreno as the January recipient of the RMFL's Player of the Month. Each month, for the remainder of the season, we will highlight a top-performing player from the RMFL.
Nadya Moreno is a shortstop and utility player for the New Mexico Suncats Gold 14u. She is a member of the 2024 graduating class.
Coach Jonathan Gandert describes Moreno as an all-around player. During the fall season, she recorded a .350 batting average.
"The kid is something special and it doesn't long to figure it out," Gandert said. "At the plate, she swings with power that is off the charts. In the circle, she pitches with authority and of tons spin."
Although Morena is a lefty, she is a strong shortstop. "At first I was skeptical about a lefty playing shortstop as every coach would be," Gandert said. "But when you see her move and throw with accuracy from that position, it is truly mind-blowing."
From all of us at the Alliance and the RMFL, we want to congratulate Moreno for her achievements! Keep up the good work.
What is the Alliance Fastpitch Player Recognition Program?
The Player Recognition Program was built to recognize and spotlight our individual players in each Member League. Starting this Spring, each League will name a Player of the Month for different age divisions.
Registered Alliance Fastpitch players will be placed in a pool based on verified stats from AthletesGoLive (AGL). AthletesGoLive(AGL) will run monthly reports and submit to the player selection committee for each League.  Additionally, registered Alliance Fastpitch coaches will have the opportunity to submit a player for consideration. Committee members will review verified stats and consider coach feedback to name League Players of the Month. 
Following the announcement of each League's Players of the Month, the Alliance Fastpitch will recognize a National Player of the Month. To be considered for Player of the Month, your team must score League games in AGL so her stats are considered in the monthly reports.