Tess Miller named RMFL Co-JR. Player of the Month for May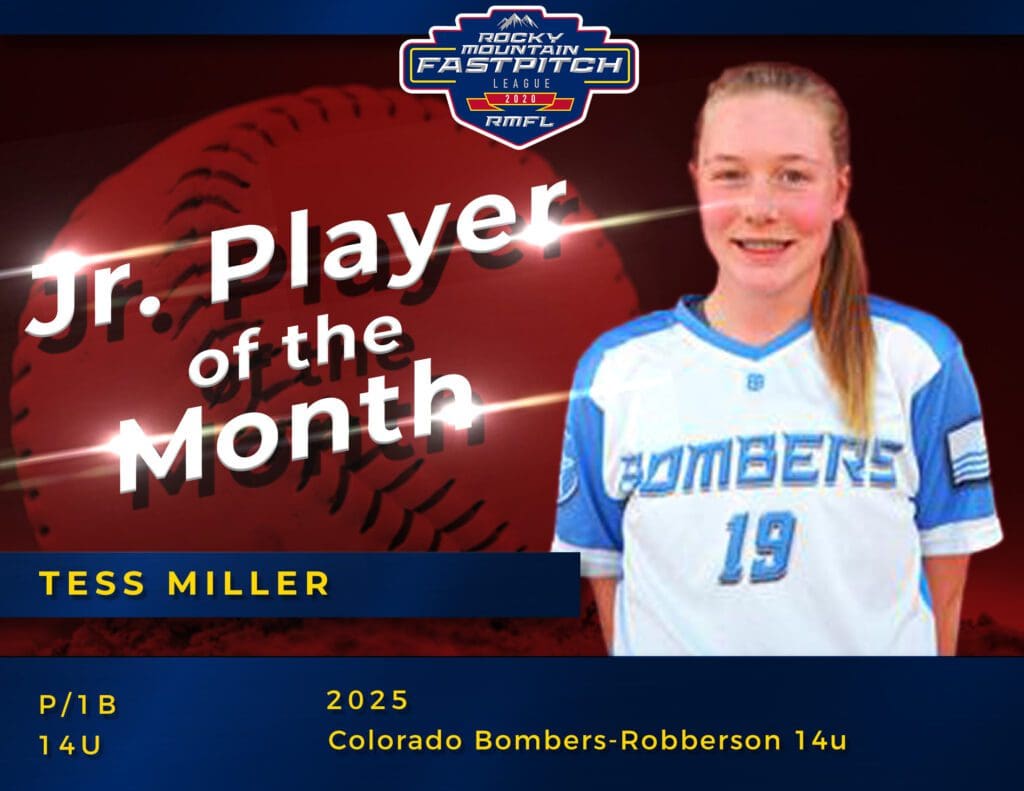 The Rocky Mountain Fastpitch League (RMFL) is excited to spotlight Tess Miller as May's Co-Junior Player of the Month. Trujillo is a pitcher and 1st baseman for the Colorado Bombers-Robberson 14uA.
Miller had a wonderful month of May on the circle with a 5-2 record in the month. She recorded 47 strikeouts, an ERA of 2.97, and a WHP of 1.25. She also had a batting average of 0.333, 8 RBIs, 13 singles, and 5 doubles.
"I started playing softball in kindergarten with a T-ball team that my dad and another teacher from my school started together," said Miller. "I always loved being in a sport with all of my close friends and we developed into better players together. I started pitching about 5 years ago and I remember the first game I went in, I hit about 7 people in one inning. I stared pitching lessons a couple months later and ever since then I have never stopped working to improve. When I was 12, I made the biggest softball decision and left the team that I had been on since age 5. It was hard to leave all of my best friends, but it was the best decision I made because I have grown so much as a player in the last couple years and gained so much more confidence. This team has helped me develop as a pitcher, hitter and 1st baseman. I played varsity softball this year as a freshman for D'Evelyn High School and we took 2nd place in the state tournament."
"My favorite softball memory was from this high school season during the first round of the state championship. I started pitching the game and I gave up 4 runs in the first inning so our team was down when we went up to bat. Throughout the 7-inning game our team came back to tie it up at 5-5. There was no action in the 8th and 9th innings, but in the bottom of the 9th, with two outs I knew I had a job to get on base. My perfect pitch came, and I hit a walk off homerun to advance our team in the state tournament. I loved running around the bases and giving my coach a high five rounding 3rd, and meeting all my teammates around home plate."
"I love the story that Tess shares about the state tournament, I was lucky enough to be sitting in the stands watching her play as a fan," said Coach Robberson. "The pure joy that Tess gets from being on the field with her teammates is what I hope all players aspire to reach. The only thing that is greater than her love of the game, is her commitment to getting better every single day. Tess is a tireless athlete that is always pushing herself physically and mentally, I have no doubt that she will continue to thrive at this level."
From all of us at the Alliance and the RMFL, congratulations to Tess Miller for her achievements.
What is the Alliance Fastpitch Player Recognition Program?
The Player Recognition Program was built to recognize and spotlight our individual players in each Member League. Each month, registered Alliance Fastpitch coaches can nominate a player from their age division. League Leadership will review nominations and a monthly stats report from AthletesGoLive (AGL) to determine the League's Player of the Month.
Following the announcement of each League's Players of the Month, the Alliance Fastpitch will recognize a National Player of the Month.
To be considered for Player of the Month, your team must score League games in AGL so your stats will be included in the League's monthly report.