Cameryn Harrison Named TFL June Player of the Month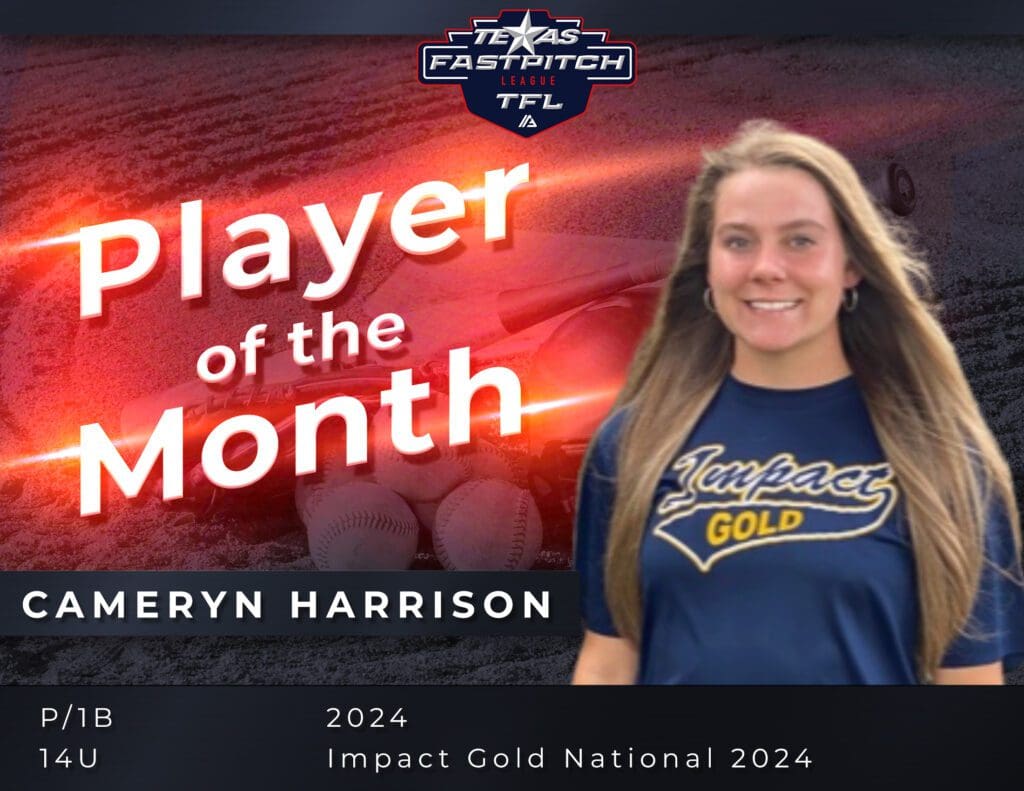 The Texas Fastpitch League (TFL) is excited to spotlight Cameryn Harrison as the June player of the month. Harrison is a pitcher on Impact Gold National 2024.
In June, she recorded a .871 ERA with 72 innings pitched. Harrison posted an 8-0 record with a total of 107 strike outs.
"Cameryn is one of the hardest workers we have ever coached," coach Carla Newsom said.  "She is. Focused and a. fierce competitor. Cameryn is a team player and always leads by example." Coach Kelly Bembry also had some positive words about the young pitcher, "Cam. Truly competes in all areas of the game. She loves her team and loves the game and that's evident by how a hard she goes all of the time."
Harrison began playing softball at the young age of 6. Her dad inspired her to play and she has been in love with the game ever since. Her favorite softball memory is hitting a 3-run home run when her team was down by 2 to put them ahead in Colorado. The energy from the team and coaches when she hit that home run was unforgettable.
From all of us at the Alliance and the TFL, congratulations to Cameryn Harrison for her achievements.
What is the Alliance Fastpitch Player Recognition Program?
The Player Recognition Program was built to recognize and spotlight our individual players in each Member League. Each month, registered Alliance Fastpitch coaches can nominate a player from their age division. League Leadership will review nominations and a monthly stats report from AthletesGoLive (AGL) to determine the League's Player of the Month.
Following the announcement of each League's Players of the Month, the Alliance Fastpitch will recognize a National Player of the Month.
To be considered for Player of the Month, your team must score League games in AGL so your stats will be included in the League's monthly report.