Kaelani Rodgers named TFL Player of the Month for May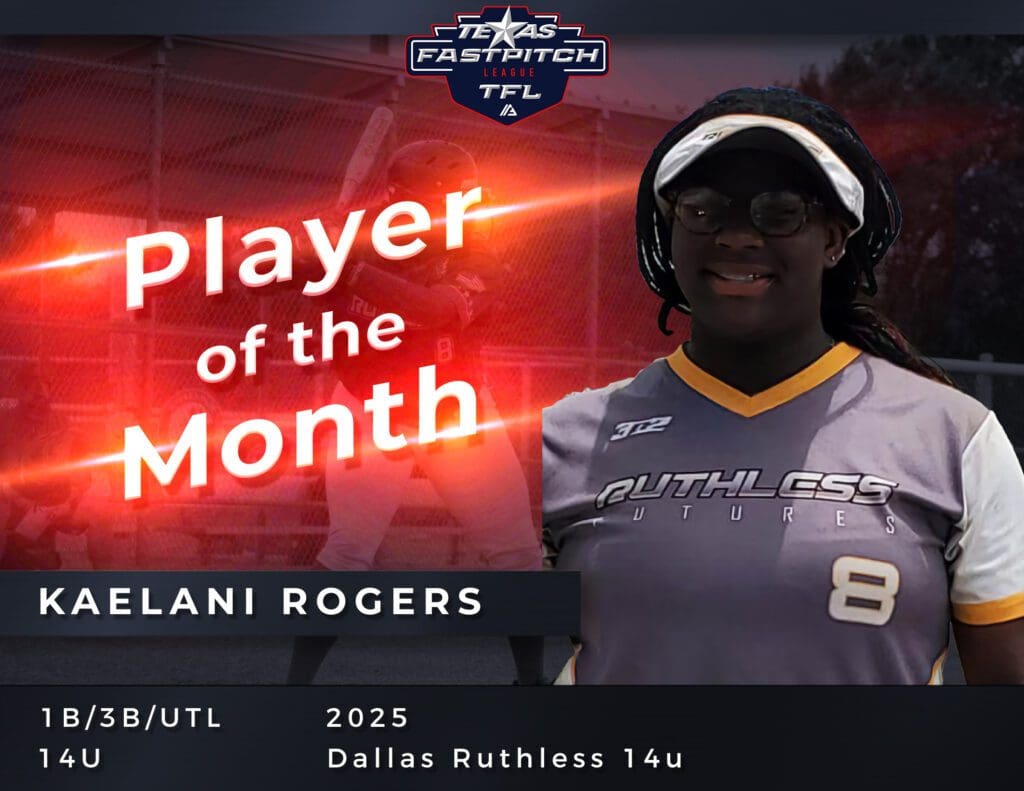 The Texas Fastpitch League (TFL) is excited to spotlight Kaelani Rodgers as May's Senior Player of the Month. Rodgers is a Utility player for the Dallas Ruthless 14u.
During the month of May, Kaelani Rodgers had a batting average of 0.442, an OPS of 1.362, and a slugging percentage of 0.907. Rodgers had an amazing 4 home runs, 19 RBIS, 1 triple, 6 doubles, and 8 triples.
"I began playing softball for the CFB rec league at 6 years old and fell in love with the game ever since I have started," said Rodgers. "My favorite softball memory is when I hit my first out of the park homerun. I had been dying to achieve my goal of hitting it out since I started playing and sure enough putting in the work needed I reached my goal."
"She is a strong kid that can hit the ball hard and at any time can be a game changer with one swing of the bat," said Coach Melaney Torres. "Defensively, she has a strong arm and can play several positions to help her team. "
From all of us at the Alliance and the TFL, congratulations to Kaelani Rodgers for her achievements.
What is the Alliance Fastpitch Player Recognition Program?
The Player Recognition Program was built to recognize and spotlight our individual players in each Member League. Each month, registered Alliance Fastpitch coaches can nominate a player from their age division. League Leadership will review nominations and a monthly stats report from AthletesGoLive (AGL) to determine the League's Player of the Month.
Following the announcement of each League's Players of the Month, the Alliance Fastpitch will recognize a National Player of the Month.
To be considered for Player of the Month, your team must score League games in AGL so your stats will be included in the League's monthly report.