Claire Scheirer Recognized as HFL Player of the Month for January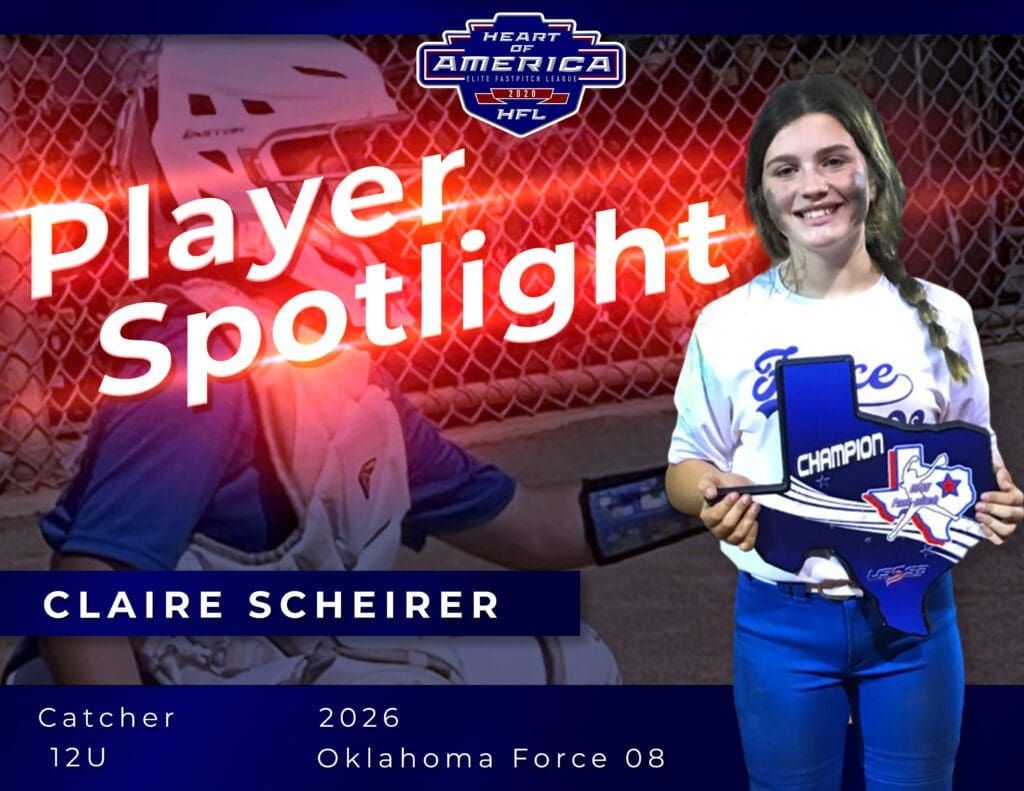 HFL January Player of the Month- Claire Scheirer
By: Carson Staponski
January brings a brand new Player of the Month to the Heart of America Fastpitch League (HFL) Player Recognition Series. This month brings 2026 graduate, Claire Scheirer, into the spotlight based on her performance this season. 
Scheirer calls Edmond, Oklahoma home; she will attend Edmond East high school, but for now, she attends Sequoyah Middle School. With a .330 batting average, .455 slugging percentage, and a .963 fielding percentage, Scheirer has proven she is a key player on the field and has already gained some recognition for her play! 
The Oklahoma Force '08 gets to see her versatility every weekend, as she has been playing for them since moving to Edmond in January of 2020. Before moving, Charlotte, North Carolina was home for Scheirer.
Scheirer began playing softball at the age of 6; however, her hometown didn't have enough players to fill a t-ball team, so she joined an 8U player pitch league at the age of 6! 
Jumping into things early helped Scheirer develop the fundamental skills to qualify for the 10U All-Star team, when her family moved to Houston, Texas at just eight years old! When she turned 10 years old, Scheirer decided to become a catcher and has been catching ever since. 
Working hard at her craft, Scheirer has made quite the splash; this past fall, Scheirer caught 172 innings in just 62 games for the Oklahoma Force. 
When asked about her favorite softball memory, Scheirer responded with "winning the last tournament of the season this past fall in Texas! And all the friends I have made playing softball!" 
Congratulations to the 2021 HFL January Player of the Month, Claire Scheirer of Oklahoma Force '08! The HFL is looking forward to seeing all you achieve in your future! 
What is the Alliance Fastpitch Player Recognition Program?
The Player Recognition Program was built to recognize and spotlight our individual players in each Member League. Starting this Spring, each League will name a Player of the Month for different age divisions.
Registered Alliance Fastpitch players will be placed in a pool based on verified stats from AthletesGoLive (AGL). AthletesGoLive(AGL) will run monthly reports and submit to the player selection committee for each League.  Additionally, registered Alliance Fastpitch coaches will have the opportunity to submit a player for consideration. Committee members will review verified stats and consider coach feedback to name League Players of the Month. 
Following the announcement of each League's Players of the Month, the Alliance Fastpitch will recognize a National Player of the Month. To be considered for Player of the Month, your team must score League games in AGL so her stats are considered in the monthly reports.