Kinley Kemp named TFL November Player of the Month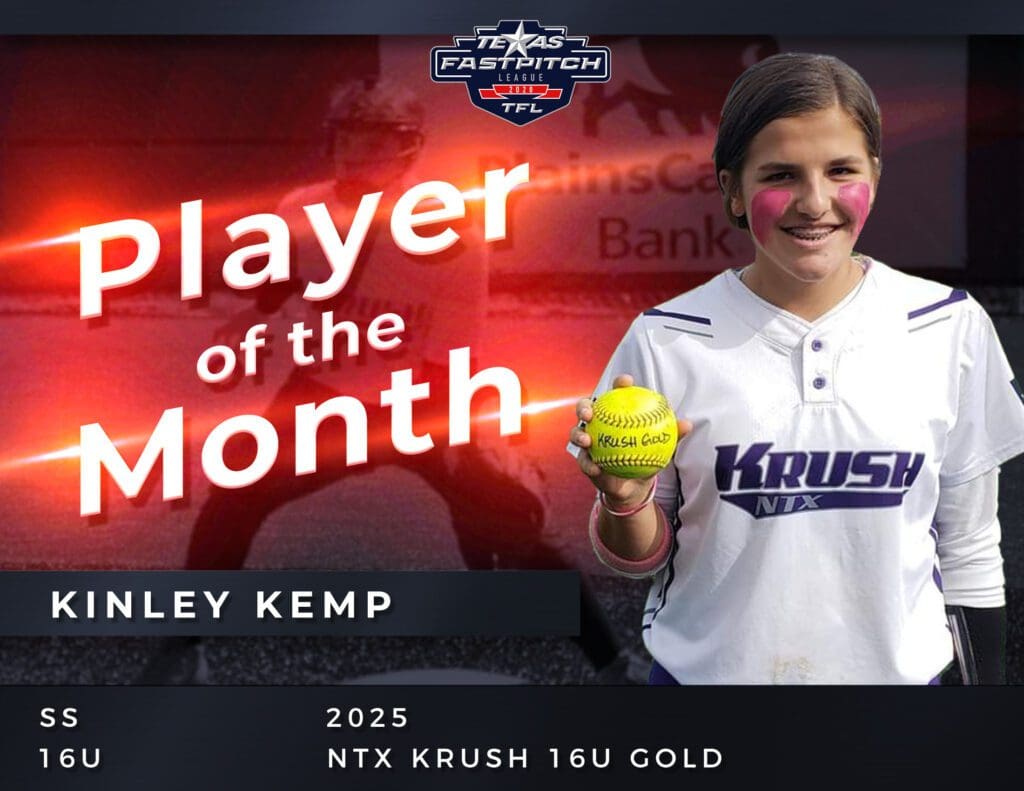 The Texas Fastpitch League is excited to announce the TFL's November Player of the Month: Kinley Kemp!
Hailing from Weatherford, TX, Kemp is a 2025 graduate competing for NTX Krush 16U Gold. In November, Kemp hit .571 with eight RBIs.
COACHES FEEDBACK:
Kinley is the type of player that every coach wants to fill a team with.  Physically, she is a BEAST!  She is so strong, that other coaches notice and make comments about it.  Her biggest strength is her bat.  She is always excited to put in the extra cage work and goes above and beyond with her Blast assignments.  Her on-plane efficiency and bat speed couple to produce a lot of power.  Defensively, when she came to us a year ago, she had been playing 3rd base, and we were already heavy on corners.  What we really needed was a shortstop.  When we put the radar gun on the girls, she clearly had the strongest arm.  What really impressed me was how coachable she was with detail work, and how she consistently executed plays on hard-hit/hard-to-field balls.  And, for her stature, she has good range.  She also runs the bases very well with 100% on stolen bases for this fall season.  Intellectually, she has developed a strong Softball I.Q. that has given our team a leader in the middle of the field that gives others around her confidence they need to execute at a high level.  She is truly an all-around player, but most importantly, she is a good teammate that maintains a positive attitude even in the face of adversity.
MEET KINLEY:
Q: Can you share a little bit about your softball story?
Kemp: "I started playing softball when I was six years old. My parents were my first coaches. At first they had to shove me on the field even when I didn't want to play. I started playing Little League in Weatherford 8U Coach Pitch then went on to play 10U select and have been playing softball ever since. Some of my teammates from my 8U days are currently on my team.
What softball means to me now…. it creates memories, laughter and friendships that I will never forget.  And, it is an exciting game to watch! Softball has its ups and downs, but the good thing is you have your teammates and coaches to get you through it. You also have the opportunity to meet new people – from your select team and your high school team – they become your softball family! Overall, it's just a Great Game that I love to play!"
Q: What is your favorite softball memory?
Kemp: Hitting a Home Run at Tarleton State University!
———————–
What is the Alliance Fastpitch Player Recognition Program?
The Player Recognition Program was built to recognize and spotlight our individual players in each Member League. Each month, registered Alliance Fastpitch coaches can nominate a player from their age division. League Leadership will review nominations and a monthly stats report from AthletesGoLive (AGL) to determine the League's Player of the Month.
Following the announcement of each League's Players of the Month, the Alliance Fastpitch will recognize a National Player of the Month.
To be considered for Player of the Month, your team must score League games in AGL so your stats will be included in the League's monthly report.