Landrie Thomas named TFL Junior Co-Player of the Month for December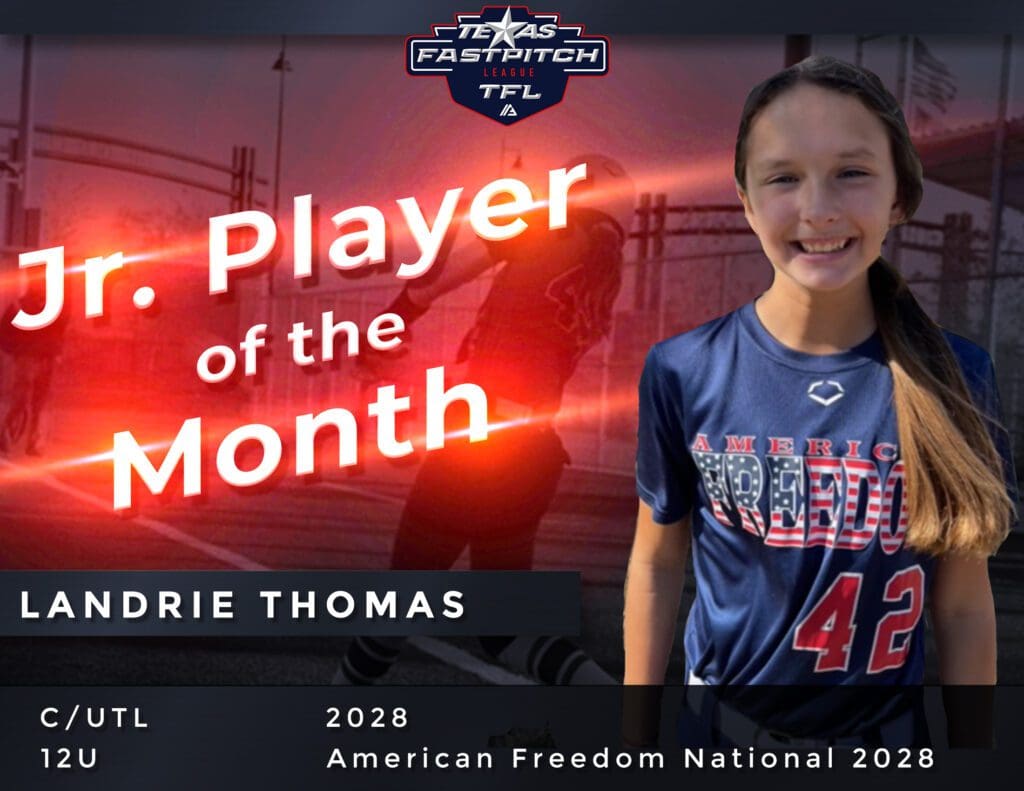 The Texas Fastpitch League (TFL) is excited to spotlight Landrie Thomas as the December Junior Player of the Month. Thomas is a 2028 catcher/utility player for American Freedom National 2028. Thomas posted an impressive batting average of .412 with a .444 OBP. The 2028 racked up 4 RBIs with 5 singles and 2 triples.
Softball Story –
I had just turned 3 years old and I was always throwing things around the house so my parents signed me up for a T-Ball league in my home town. However, my love for making dirt angels sometimes overshadowed my game time..heehee. Little did they know I would fall in love with that yellow ball so much that I would go through 4 seasons of t-ball and go on to do Rec and Select softball at the same time, fall and spring, every year since I first put my cleats on red dirt. I have been on 4 different rec teams and 2 Select teams.
Favorite Softball memory-
My favorite softball memory is when I made the USSSA All American team for the second time..but the thing about the second time was that I had made the "DIRECT SELECT" team. That night, my parents woke me up super late by running around the house screaming.
Who is your favorite softball player?
KYLIE NAOMI
What do you like to do outside of softball?
Outside of softball I like to hunt, fish, play basketball and volleyball with my friends
What are some of your current goals – both on and off the field? 
My goal for on the field is to hit my first "legit" home run over the fence before the next fall season. My goal for off the field is to have all A's for all of my AP and non-AP classes for this semester and then for the year.
What is the Alliance Fastpitch Player Recognition Program?
The Player Recognition Program was built to recognize and spotlight our individual players in each Member League. Each month, registered Alliance Fastpitch coaches can nominate a player from their age division. League Leadership will review nominations and a monthly stats report from AthletesGoLive (AGL) to determine the League's Player of the Month.
Following the announcement of each League's Players of the Month, the Alliance Fastpitch will recognize a National Player of the Month. To be considered for Player of the Month, your team must score League games in AGL so your stats will be included in the League's monthly report.