Brooklyn Hart named NWFL Co-Player of the Month for April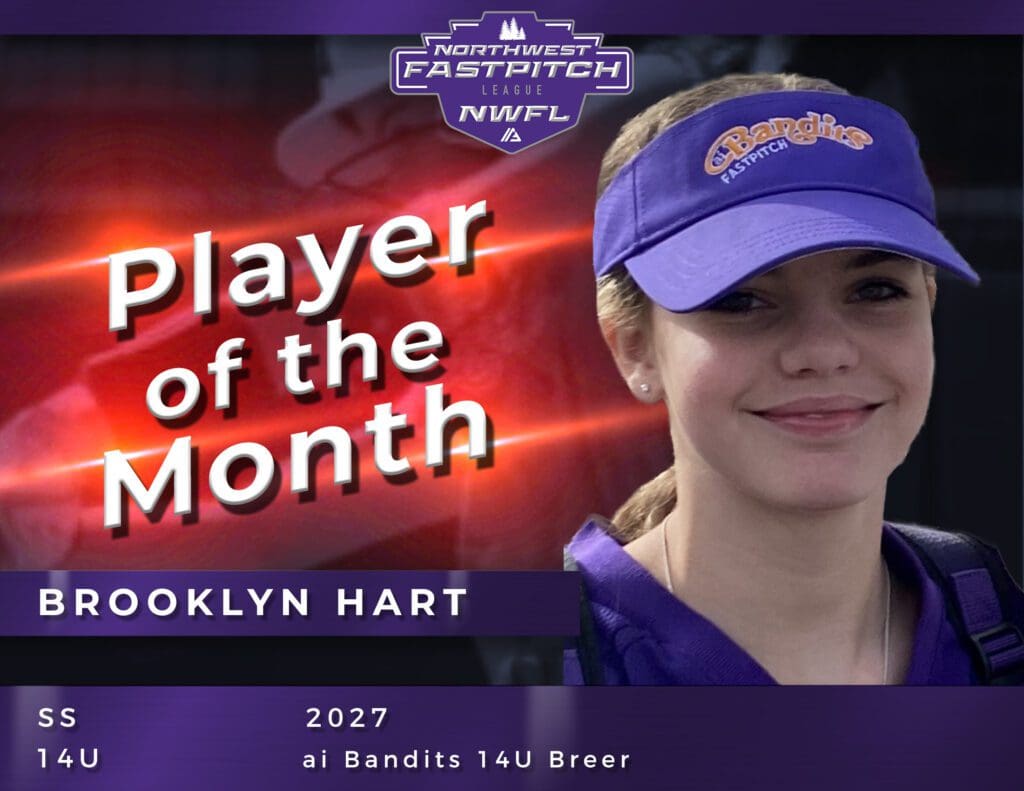 The Northwest Fastpitch League (NWFL) is excited to spotlight Brooklyn Hart as April's Co-Senior Player of the Month. Hart is a shortstop for ai Bandits 14U Breer.
Hart had an impressive showing this month with a batting average of .727 and an OPS of 2.45. She also managed to tally 10 home runs, 23 RBIs, and 24 total hits.
"She is a 2027 grad year but you wouldn't know it watching balls come off her bat," said her coach. "Check out her stat line for the month below. Looks like video game numbers. Brooklyn is a special talent that does not come along every year. Her physical capabilities, body awareness, toughness and mental aptitude for softball is rare especially considering her age. While every coach would love to have players like Brooklyn on their team she does present the additional challenge of managing expectations to ensure the love of the game remains intact. That being said she has a chance to make a significant impact in the softball world and I hope to have a front-row seat."
Hart's softball career started at a very young age. "I started out playing baseball my first season (7 yr old) and then made the switch to girls rec softball the following season and fell in love with the game instantly and have dedicated myself to playing since"
Hart's favorite memory is representing her region. "Representing my region in the USA All American Games and getting to play in the USA Hall of Fame Stadium".
From all of us at the Alliance and the NWFL, congratulations to Brooklyn Hart for her achievements.
What is the Alliance Fastpitch Player Recognition Program?
The Player Recognition Program was built to recognize and spotlight our individual players in each Member League. Each month, registered Alliance Fastpitch coaches can nominate a player from their age division. League Leadership will review nominations and a monthly stats report from AthletesGoLive (AGL) to determine the League's Player of the Month.
Following the announcement of each League's Players of the Month, the Alliance Fastpitch will recognize a National Player of the Month.
To be considered for Player of the Month, your team must score League games in AGL so your stats will be included in the League's monthly report.